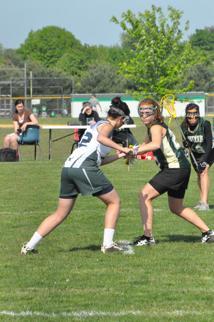 The Ivy League presidents accepted a series of recommendations made by the League's Multi-Sport Concussion Review Committee aimed at limiting the incidence of concussion in men's and women's lacrosse and men's and women's soccer.
The Multi-Sport Concussion Review Committee oversaw the reviews in men's and women's lacrosse and soccer. The Multi-Sport Committee arose from the Ivy League's Ad Hoc Committee on Concussion, which conducted last year's football concussion review and was also co-chaired by Dartmouth then-President Jim Yong Kim and Cornell President David J. Skorton, both medical doctors. Sport-specific committees reviewed men's and women's soccer (one committee), men's lacrosse and women's lacrosse, and included Ivy League head coaches, administrators, expert consultants, team physicians and athletic trainers.
"These concussion reviews, particularly as they relate to the safety of our student-athletes, reflect the Ivy League's interest in taking a leadership role in appropriate aspects of athletics generally and regarding concussions specifically. Expanding our review to include more sports is another way to drive the discussion and help student-athletes across our broad-based athletics programs," said Robin Harris, Ivy League Executive Director.
To read more, click here.