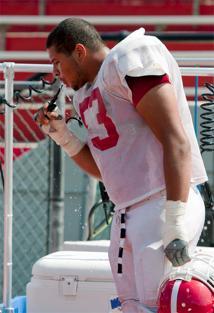 The brutal heat wave of 2012 has had a profound effect on Illinois residents, from farmers to lifeguards. With preseason fall sports practices getting under way this month, add high school athletes to the list. Without proper oversight and safety, the consequences can be fatal.
Some states — Illinois is not among them — have put guidelines in place to ensure that teens are practicing appropriately in sweltering conditions. The recommendations were drafted by a task force that included a number of sports medicine and health groups, including the National Athletic Trainers' Association. We turned to David Csillan, who was a co-chair of the task force and is an athletic trainer at Ewing High School in Ewing, N.J., for enlightenment. 
To read more, click here.