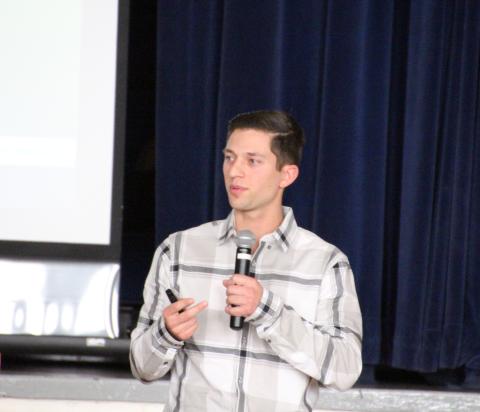 On Thursday, November 20, 2014, Athletic Training Student Cory Weissman told his story to the students at Oratory Preparatory School in Summit, New Jersey. Cory, a stand out basketball player in high school, suffered a stroke after his freshman basketball season at Gettysburg College that left. His story has been highlighted by ESPN College Game Day and ESPN Outside the Lines. A full length motion picture entitled "1000 to 1:  The Cory Weissman Story" was also produced.
Cory's message to the Oratory Prep students, faculty and staff was simple:  Don't ever give up on your dreams and concentrate on taking the first step toward your ultimate goals. The stroke that Cory suffered came during a weight lifting session during the off season. Cory described getting a piercing headache that did not subside after 10 or so minutes and he decided to continue with the workout. He said he went to lift a dumbbell off the rack with his right arm and had no difficulty. He went to do the same with his left and could not lift the weight. Over the next few minutes, Cory's body began to shut down and he and his teammate made their way towards the Athletic Training Room. His friend began yelling for help when an Athletic Trainer emerged from the room and ran to their aid.
"The Athletic Trainer immediately began an assessment and called 911." Cory recalled.  "She helped save my life. Without her help, who knows what would have happened."
Cory had a long road to recovery and always kept his goal of playing basketball again in the forefront of his mind. He worked tirelessly over the next 3 years and, on his Senior night, once again found himself on the court.
"Throughout the entire rehab process the Athletic Trainers were there for me. I did my rehab with them when I went back to school and without their help I wouldn't have gotten to where I am." Cory stated. "This is how I fell in love with the Athletic Training profession. They were there for me from start to finish, seeing me through to my end goal, and for that I am grateful."
To view the ESPN Game Day footage on Cory, please click here:  https://www.youtube.com/watch?v=PKXMEqcSDdE
To view the ESPN Outside the Lines footage, please click here:  https://www.youtube.com/watch?v=bDIrTzaZs9c
To view the trailer for "1000 to 1:  The Cory Weissman Story", please click here:  https://www.youtube.com/watch?v=ESZfLTH6tFY