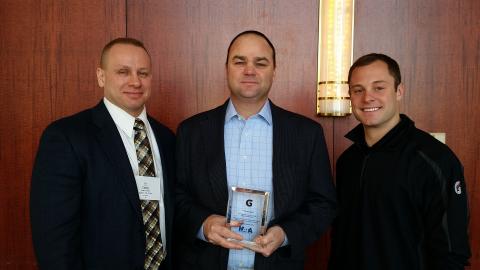 On Saturday, January 12, 2015, Kevin Hyland, ATC was awarded the 2015 Gatorade Secondary School Athletic Trainer Award. Kevin is the recipient of this award for the National Athletic Trainers' Association's District 2. In order to receive the award, an Athletic Trainer must meet the following criteria:
·       Candidate must be an active certified athletic trainer in the year of consideration and a current member of NATA in good standing.
·       Candidate must have a current NPI Number
·       Candidate must be BOC Certified
·       Candidate must be a full-time or part-time employee in the secondary schools for at least one full academic year
Mr. Hyland was nominated by Manasquan High School Athletic Director Ron Kornegay and had 3 letters of recommendation written in support of his nomination by Mr. Rick Coppola (School Principal), Dr. Patrick Buddle, MD (Team Physician) and Ms. Emily Maher (Athletic Training Student).
                  "I am truly honored to receive this award." Said Hyland. "I feel it is a direct reflection on our school, administration, and community.  The support I receive from them allows our athletic training program to be successful.  Without the support from my administration and community many of our goals would not have been reached."
Hyland, who is in his 20th year as a Certified Athletic  Trainer, earned a bachelor of science in Athletic Training and Education from West Chester University in 1994. He has spent the duration of his career caring for the athletes of Manasquan High School.  He is thankful to Gatorade for the award and feels that any of his colleagues in the Shore Conference could have won the award. "They all are outstanding professionals and have the respect of our community." Explained Hyland. "Any time we play an away game we know our student athletes are in good hands."
                  "I have always loved this profession and I have never been more proud of my school and program as I am today." Stated Hyland. "I hope that we can continue to move our Athletic Training profession in the right direction.  When receiving such awards like the Gatorade SSATC award it tells me that the everyday grind of an athletic trainer is worth it."
When receiving the award at the Eastern Athletic Trainers' Association meeting, Mr. Hyland was joined by his wife, Vanessa and his two children, Daniel (11) and Vincent (9). He credits them with being his biggest fans and couldn't be more proud to share this award with them.
The ATSNJ would like to congratulate Kevin on a job well done and on receiving this award. For more information on the ATSNJ and Athletic Training in New Jersey, please visit our website at www.atsnj.org. For more information on the Gatorade Secondary School Athletic Trainer Award, please visit the NATA website at www.nata.org.
Photo (Right to left):  Casey Christy (NATA Dstrict 2 Secondary School Athletic Trainer Representative), Kevin Hyland, Fritz Steuber (Gatorade Representative)