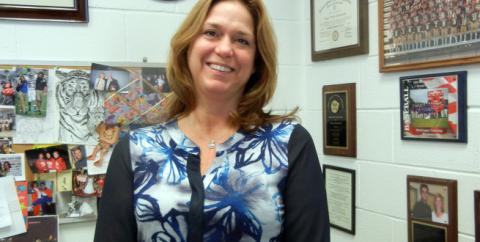 Washington Township High School head athletic trainer Tanya Dargusch was chosen by the National Athletic Trainer's Association (NATA) as one of their 2015 Most Distinguished Athletic Trainer Award winners. Dargusch joins 17 colleagues from across the nation who will be honored with the award this June at the NATA convention in St. Louis.
"I have always said Tanya Dargusch is the best athletic trainer in the state of New Jersey, but now I will have to say she is the best in the nation," WTHS Director of Athletics Kevin Murphy said. "Our school district is proud of Tanya's efforts on behalf of all our students. She is a professional who consistently goes above and beyond the scope of her job to provide the best care for our student-athletes. We are happy to share this moment with her."
The Most Distinguished Athletic Trainer (MDAT) award recognizes NATA members who have demonstrated exceptional commitment to leadership, volunteer service, advocacy, and distinguished professional activities as an athletic trainer. MDAT exclusively recognizes NATA members who have been involved in service and leadership activities at the national and district level. The award acknowledges outstanding dedication and service to the athletic training profession. Candidates must have held the certified athletic trainer (ATC) credential, conferred by the Board of Certification, and have been an NATA member, both for at least 20 years. Dargusch was nominated for the MDAT award by Linda Fabrizio Mazzoli, who was an award winner in 2014. Mazzoli is the director of the Comprehensive Concussion Center at the Rothman Institute in Philadelphia.
"Nationally, the only higher recognition would be the (NATA) Hall of Fame," said Dargusch, who is in her 28th year as WTHS's head trainer. "It's a big deal. I've sat there and watched different people receive this award, and never did I think it would be me one day."
Last year, Dargusch was chosen as the Chair to the NATA's District Secretary Treasurers' Committee. In addition, she is a member of the Athletic Trainers Society of New Jersey Hall of Fame (2013), the New Jersey Scholastic Coaches Association Hall of Fame (2009), and the winner of several awards including: the Eastern Athletic Trainers Association Henry Schein Scholastic Trainer Award (2008), the National Athletic Trainers Association Athletic Trainer Service Award (2008), and the ATSNJ Victor D. Recine Distinguished Service Award (2007).
The ATSNJ would like to congratulate Tanya on a fantastic career that has gotten her this level of recognition!
To read the original article, please click the following link:  http://bit.ly/16Y4wqe