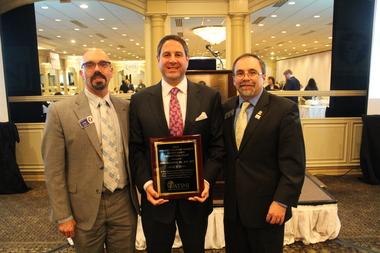 John Gallucci Jr., an athletic training professional regularly featured on "Health & Fitness" for his vast knowledge in athletic training/sports/injury prevention, has received the Athletic Trainers' Society Of New Jersey's 2015 Presidential Award, for his service and dedication to Athletic Training.
First a little bit about John Gallucci Jr... aside from running 10 JAG Physical Therapy locations in NJ and Manhattan, he also serves as the Medical Coordinator for Major League Soccer. The Staten Island-native is also the former Head Trainer for the New York Red Bulls of MLS and served as a trainer in the Athletic Departments of Columbia University, New York University and Long Island University. 
Receiving this award from his colleagues was an "unbelievable privilege" according to Gallucci, who talked about the change in the athletic training profession from years ago at the traditional level -- from high school, college and professional sports -- to how its evolved into the care of sports injury and illness for active people of all levels across the country, and discussed the need for it to evolve further.
"We want to see certified athletic trainers involved in all organized sporting events, especially with the rise of club sports in America. We need to look at the health and safety of our athletes, especially our young athletes, and decrease the epidemic of sports injuries and ER visits by working with trained medical professionals," said Gallucci. He also noted the importance of seeing a shift from reactive to active care, and put the responsibility on politicians to move forward to this end in their own communities.
One of the main things Gallucci emphasized is the need for a better understanding of preseason conditioning and treatment. "To keep more people injury free, there needs to be more progress in the areas of prevention and treatment," he said.
Parents, coaches and anyone interested in learning more about sports injury and prevention can take a look at John Gallucci Jr.'s book "Soccer Injury: Prevention and Treatment... A Guide to Optimal Performance for Players, Parents, and Coaches." The book's target audience is soccer players, but it pertains to anyone playing youth sports.
Congratulations John, on this wonderful honor and thank you for highlighting such important facts about sports injury and prevention at all levels.
To read the original article, please click the following link:  http://bit.ly/1GrYhqC