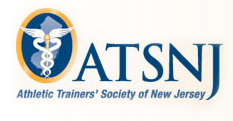 The Athletic Trainers' Society of New Jersey and JAG Physical Therapy, a multi-center outpatient physical therapy company have moved forward with a continued partnership in support of the athletic training profession in the state of New Jersey. The two forces team up to strive for common goals which include education of the general public as to the role and function of the athletic trainer, encourage students to enter the Athletic Training profession and to provide sports care information to related health care organizations, to name a few. Earlier this year, JAG Physical Therapy President John Gallucci Jr. was honored at the ATSNJ's Annual Conference with the prestigious President's Award for his commitment, dedication and advocacy of the athletic training profession. 
ABOUT JAG PHYSICAL THERAPY
JAG Physical Therapy is a comprehensive outpatient physical therapy company which provides physical therapy care for general orthopedic, sports and soft tissue injuries, Workers' Compensation cases, and Medicare patients. Our experienced, caring physical therapists, athletic trainers and exercise physiologists are invested in your full recovery.
JAG Physical Therapy is New York and New Jersey's physical therapy leader in the recovery of knee, foot, ankle, hip, shoulder, elbow, and back injuries. We feature state-of-the-art rehabilitation equipment and beautiful spacious facilities that cater to your rehabilitation needs.
John Gallucci Jr., the President of JAG Physical Therapy, is one of the foremost leaders in physical therapy care. John's education and years of experience in the medical and sport medicine realm have provided a foundation for JAG Physical Therapy's expertise in patient care. John is currently the Medical Coordinator for Major League Soccer, sits as an appointed member of the New Jersey Governor's Council on Physical Fitness and Sport, and has served as the head athletic trainer for several professional and amateur teams including the New York Red Bulls (MLS). 
ABOUT THE ATHLETIC TRAINERS' SOCIETY OF NEW JERSEY
The Athletic Trainers' Society (ATSNJ) consists of Certified Athletic Trainers, Athletic Training Students, Physicians and other allied health care professionals living or employed in the State of New Jersey. Working together, our goal is to the advancement and improvement of the athletic training profession in the State. The ATSNJ also continually strives to ensure that athletes receive the best health care possible.
The Athletic Trainers' Society of New Jersey is:
ATSNJ, Inc.
Composed primarily of members certified by the National Athletic Trainers Association Board of Certification &/or Licensed by the New Jersey Board of Medical Examiners.
Dedicated to the advancement, and improvement of the Athletic Training profession in the state of New Jersey.
Continually striving to ensure that the student-athlete receives the best possible health care.