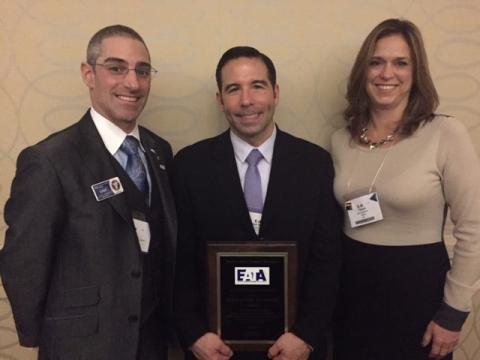 January has been an exciting month for Athletic Trainers' Society of New Jersey (ATSNJ) members. The month witnessed certified, associate, and student members alike bring recognition to the society for their outstanding work in the field of sports safety. Earlier this month, ATSNJ member Michael Prybicien (Henry Schein Award), student member Haley Anderson (HARTMANN USA Sports Medicine Scholarship), and longtime supporter of New Jersey athletic training Dr. R. Robert Franks, D.O. (Dr. David G. Moyer Award), were honored at the Eastern Athletic Trainers' Association (EATA) Annual Meeting taking place in Boston, Massachusetts. In addition to these awards, ATSNJ President-Elect Christina Emrich (Red Bank Regional High School Educational Services Professional of the Year), ATSNJ members Mark Bramble (Marlboro High School Educational Services Professional of the Year) and Jim Barber (Brick Township High School Educational Services Professional of the Year) were also honored by their respective school districts. "We are proud of the recognition that our members have brought to the field of athletic training and sports safety. It shows the work and dedication our members have to this profession." said Eric Schwartz, ATSNJ President.
Michael Prybicien, MA, ATC, CES, PES was awarded the Henry Schein Award at the EATA Conference. Henry Schein, an athletic training supply company, presents an award each year at the annual Eastern Athletic Trainers' Association.The award is given to a person who has made an outstanding contribution to the profession on the secondary or prep school level. Prybicien has been employed at Passiac High School (Passiac, NJ) for the past 8 years. In addition to being employed as an athletic trainer at Passaic High School, he is also an athletic trainer at the Overlook Medical Center, Concussion and Rehabilitation Department in Summit, NJ and is an adjunct professor for the athletic training education program at William Paterson University in Wayne, NJ.
Michael has served as the president and was on the executive council of the Athletic Trainers' Society of New Jersey and is the public relations coordinator of the the national Athletic Trainer Associations' District 2. During Michael's ATSNJ presidential term, the ATSNJ was a leader in field of sports safety. This was evident in their involvement in the new concussion law signed by Governor Christie as well their numerous educational and public relations efforts to continue to improve sports safety in New Jersey.
Michael has authored numerous book chapters, abstract articles and journal articles specializing in sports emergency care, and injury prevention, recognition and management.  He is also active with the National Athletic Trainers' Association serving on various task forces and committees. 
Haley Anderson is a senior athletic training student at William Paterson University (WPU), who maintains a 3.752 overall GPA. She will graduate with a Bachelor of Science in Athletic Training in May 2016 and take her Board of Certification exam in April 2016. Haley has been on the Dean's List for nine consecutive semesters at WPU. Haley partakes in a variety of athletic training-related activities. She is an ATSNJ Student Committee representative for William Paterson University (WPU) and this year was elected as Chairperson of the committee. Haley is the New Jersey representative for the EATA Student Delegation. She is currently the WPU Athletic Training Club President. She has volunteered at the Special Olympics New Jersey Summer, Fall, and Spring Games, as well as at the New York and Boston Marathons. Haley has participated in the WPU breast cancer walk for two years, and also participated in the Hudson Valley Walk to Defeat ALS this year. She regularly attends the NATA, EATA, and ATSNJ Conferences, and has represented WPU's ATEP at the EATA Quiz Bowl for the past two years. Haley recently completed an athletic training student internship with the New York Giants, which began in spring 2015.
Dr. R. Robert Franks, D.O. received the The David Moyer Award is presented to a team physician that has served the profession of Athletic Training as an educator and an advocate and has also served the community in which they live and work. Robert Franks, D.O., F.A.O.A.S.M., is a board certified family practice physician with a certificate of added qualification in Sports Medicine at Rothman Institute and a Co-Medical Director Jefferson Comprehensive Concussion Center. He is an Associate Professor at Thomas Jefferson University and Volunteer Clinical Assistant Professor at Rowan University School of Osteopathic Medicine. Dr. Franks specializes in medical orthopaedics, sports medicine, and is one of the nation's leaders in sports-related concussion management. Dr. Franks is widely published on sports concussion management having co-authored the Team Physician's Consensus Statement on Concussion and further contributing numerous articles and abstracts in peer-reviewed journals and presentations at national meetings. He is a current member of several sports medicine societies, including serving on the Executive Committee of AOASM where he is currently First Vice President. Dr. Franks is also a team physician for USA wrestling and a number of area high schools and consults for the Philadelphia Phillies. Dr. Franks has received numerous awards and recognitions for his work on concussions and has been voted a South Jersey "Top Doc" for the past several years in both Pediatric and Adult Sports Medicine.
Christina Emrich was named Red Bank Regional's Educational Professional for 2016. Ms. Emrich has been Red Bank Regional's athletic trainer since she returned to her alma mater in 1995, a prophecy she declared at her 1987 graduation from high school when she told the then athletic director, "I will be back someday ---as your athletic trainer." She obtained her BS degree from Montclair State University in 1992 in Physical Education/Health and Athletic Training, and her MS degree from Kean University in 2007 in Exercise Science.
She has more than excelled in that role and has been the inspiration and example to many student athletic trainers over the years. Many have gone on to professions in the medical field including athletic training, physical therapy, nursing, physician assistant, and nutrition among others.
Christina, who is also the lead teacher for the RBR Academy of Sports Medicine and Management, has continually kept RBR at the state-of-the art in athletic training and treatment through her participation in educational opportunities and experiences. In her spare time, she continues to be active as a dedicated emergency medical technician for both Tinton Falls and Little Silver along with her continued affiliations with professional organizations. These include, the Athletic Trainers' Society of New Jersey (ATSNJ), where she has held several leadership positions and is currently President-Elect, and the National Athletic Trainers Association. The latter honored her with its Secondary School Athletic Training Committee/Gatorade Award in 2009, which recognizes certified athletic trainers who have provided exceptional service and dedication to their schools. In 2014, the ATSNJ awarded her its Distinguished Service Award.
Mark Bramble has been a Certified Athletic Trainer since 1986 and has been the athletic trainer at Marlboro High School since 1989. Mark has held several roles within the ATSNJ during his time as an athletic trainer in New Jersey. Bramble currently holds the position of Chairman of the ATSNJ Golf Outing (the most successful ATSNJ fundraiser) and has served as the co-chair of the Governmental Affairs Committee, co-chair of the Conference Committee, and was a member of the Executive Council from 1994-2001.
Jim Barber has been an Athletic Trainer at Brick Township High School for the past 24 years. He is a 1983 graduate of Ocean Township High School and 1988 graduate of Glassboro State College, graduating with a bachelor of arts degree. Along with his duties at Brick Township High School, Jim also works with the Jersey Shore Whalers Junior Level Ice Hockey Program U20/High Level and the Jersey Shore Basketball League in the summer. He is honored to receive this award because it was voted on by his colleagues at the school.
The ATSNJ would like to congratulate all of the recipients of these most prestigious awards. For more information on the ATSNJ and athletic training in New Jersey, please visit http://www.atsnj.org. You can also like us on facebook (ATSNJ New Jersey's Sports Safety), follow us on Instagram (@atsnj) and on Twitter (@NJSportSafety).