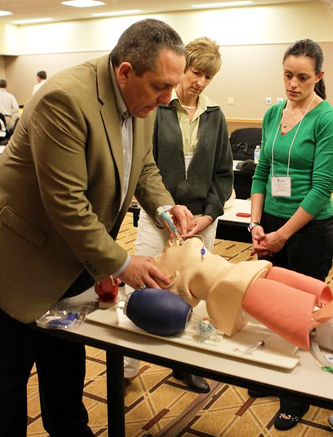 With youth sports concussion safety laws in place in all 50 states, increased public awareness about concussions, and growing concern about the long-term effect of repetitive head impacts, the demand for concussion education, not just for parents, coaches, and athletes, but for health care professionals, such as primary care physcians and emergency room doctors, as well is at an all-time high, and promises to go even higher in the coming years. But who should sports programs - whether school-based or independently run - hire to educate athletes, coaches, and parents about concussions? What kind of training, education and experience should they have? We decided to ask a number of leading concussion educators.  First up is Robb Rehberg, Professor and Coordinator of Athletic Training Clinical Education at William Paterson University in Wayne, New Jersey. MomsTEAM: Tell us a little bit about your training and education that prepared you to be a concussion educator? Rehberg: My first lessons in dealing with concussion came during my days playing footbal in high school. Since that time, concussions have always been an area of interest for me. I'm an athletic trainer by trade, and my undergraduate degree is in athletic training. I also earned a PhD in Health Science Education and Research, which has helped me not only understand the research, but be able to present it to various groups in a way that is easily understood. During the first 13 years of my career I worked at the high school level, where I managed dozens of athletes with concussion. Over the years, I've attended a number of continuing education programs on concussion, and as a result, I always felt that my knowledge of concussion management was above average. However, the best concussion education I've received began four years ago, when I began working at the Center for Concussion Care at Overlook Medical Center in New Jersey, one of the busiest hospital-based sports concussion programs in the area. It didn't take me long to realize that I didn't know one-tenth of what I thought I knew about concussions. It is through working with young athletes, their parents, coaches, and school officials that I have learned (and continue to learn) so much about concussion injury. MomsTEAM: Who, in your view, should be leading concussion education sessions for youth sports teams and schools? Rehberg: There are plenty of resources available that can be used as aids when conducting concussion education, but I believe it takes a professional with clinical experience in preventing and managing concussion to appropriately answer the many questions that coaches, athletes and parents are bound to ask during a education session, and be able to separate fact from fiction. Moreover, concussion educators need to be able to convince an audience about the seriousness of concussion in sports, while at the same time diffusing the myths that can discourage parents from allowing their child to participate in contact and collision sports. Concussion educators need to be able to speak the language of their audience, which can be very different between groups. For instance, the approach used to educate mothers of first-time athletes may not resonate with seasoned football coaches. Concussion educators need to know their audience, and know how to reach them. It's for these reasons that I view an athletic trainer as being best suited for the role of concussion educator because they not only have the necessary educational background and experience in managing concussion, but the experience in talking to young athletes, their parents, and their coaches that is required. MomsTEAM: You have a great resume and are well-educated, but what about communities without a Robb Rehberg? What is the minimum education and training a person needs to provide concussion education? Rehberg: My initial advice is to find an athletic trainer. As I've mentioned, they have the best educational background and experience in concussion that prepares them to be effective educators. It's my personal feeling that concussion educators should be health care providers who have had clinical experience in managing concussion, as well as a familiarity with the sport or sports in question.Aside from athletic trainers, others who can meet these requirements could include physicians, nurses, and neuropsychologists. There are also plenty of excellent online resources available, including the CDC, authoritative sources such as MomsTeam.com, and even our [Sport Safety International's] online education series called ConcussionWise.  While some sports programs prefer to use online education, my personal view is that face-to-face education is always best. There are always questions to answer. That's why Sport Safety International, recently launched a concussion instructor program to empower those with experience in concussion management with educational tools to be used in a live format.MomsTEAM: With all sorts of people popping up who call themselves "concussion educators," what do parents and leagues need to be cautious about in hiring someone to do the training? Rehberg: In recent years, there has been an influx of companies and self-purported "experts" trying to cash in on what's been coined the "concussion epidemic." And although there are reputable experts and companies, there are a good number of "snake oil salesmen" interested in selling a product that may or may not have any real value in concussion prevention and management. Any company or expert offering to provide concussion education who uses the sessions to sell their product may not be providing unbiased and objective information on concussion prevention and management. Parents and leagues need to be aware of this. Parents and leagues should also be aware of well-meaning individuals who may volunteer to provide concussion education based on their own personal or family experience. While their experiences may be informative, parents and leagues need to be sure they are selecting a concussion educator who will present universally accepted information, and not just personal experiences. MomsTEAM: What are the questions parents need to ask of a person and what qualifications do they need? Are there courses, etc.? Rehberg: Parents need to ask questions such as: 
What is the educator's background? Do they have any clinical experience in concussion management?
Are they attempting to promote a specific product to be used in concussion management? If so, this may be a red flag.
What do they intend to discuss? Concussion educators should be able and prepared to discuss concussion prevention, identification, immediate management, recovery, return-to-learn and return-to-play. 
Does their educational offering follow any recognized guidelines or recommendations? There are a number of authoritative recommendations, guidelines, and position statements that address sports concussions, such as those from the National Athletic Trainers' Association, American Medical Society for Sports Medicine, American Academy of Neurology, and the Zurich 2012 International Consensus Statement. Your concussion educator should be familiar with and be prepared to address these guidelines and recommendations.
Does the concussion educator teach a specific program, or do they utilize specific educational material? Some educators may use materials such as the CDC's Heads Up program, or they may be teaching a national standardized program such as Sport Safety International's ConcusionWise program.
Is there a cost involved? Some concussion educators volunteer their time educating communities. Others offer their educational sessions for a fee. Know what you're getting into.
 MomsTEAM: Brag time. What have you done in the last five years that you are most proud about to help protect kids? Medals? Awards? Rehberg: I have dedicated my career to doing everything I can to help prevent injury and promote safe participation in sports. I've been honored for my efforts in many ways. I've been inducted into the Athletic Trainers' Society of New Jersey's Hall of Fame, and the New Jersey Scholastic Coaches Association Hall of Fame. On the national level, I have received the National Athletic Trainer's Association's Athletic Trainer Service Award, and received the Ordo Honoris (Order of Honor) Medal and Award from the Kappa Delta Rho National Fraternity for my service. Last year I received the NATA's Continuing Education Excellence Award, in recognition of the educational programs I've developed for athletic trainers. In June 2014, I will received the NATA's Most Distinguished Athletic Trainer award at its Annual Meeting in Indianapolis. What I'm most proud of, however, is my role in the development of Sport Safety International's free online education programs, which have educated over 95,000 people in 23 counties since 2011. *** MomsTeam.com and its non-profit parent, MomsTEAM Institute, are watchdog and advocacy organizations whose missions are to educate youth sports stakeholders on best health and safety, nutrition, hydration, and sports parenting practices.    This is the first in a series on concussion educators.  Dr. Rehberg is Professor and Coordinator of Athletic Training Clinical Education at William Paterson University in Wayne, New Jersey, and co-founder and Executive Director of Sport Safety International. A partner of The Rehberg Konin Group, and a member of the staff at the Center for Concussion Care and Physical Rehabilitation at Overlook Medical Center in Summit, NJ. Dr. Rehberg previously served as the Director and Chief of Emergency Services at Montclair State University in Montclair, New Jersey. Prior to teaching at William Paterson, Dr. Rehberg spent 13 years as the head athletic trainer at Westwood Regional High School in Westwood, New Jersey.  Dr. Rehberg has spent his career working in both the athletic training and emergency services fields and has published and spoken frequently at state and national meetings on sports emergency care.  He served as a member of the medical staff for athletics (track and field) at the 1996 Summer Olympic Games in Atlanta, Georgia, and has been active on both state and national levels, having served on the National Athletic Trainers' Association (NATA) Inter-Association Task Force for the Appropriate Care of the Spine-Injured Athlete, the Task Force on Appropriate Medical Coverage for the Secondary School-Aged Athlete, and the NATA Hall of Fame Subcommittee. Dr. Rehberg is a past-president of the Athletic Trainers' Society of New Jersey. He has also served as the Chair of the National Safety Council Emergency Care Advisory Committee since 1992 and was a member of the American Heart Association Task Force that developed the first-ever international guidelines for first aid in 2000. He was a charter member of the New Jersey Disaster Medical Assistance Team. Outside of his professional activities, Dr. Rehberg enjoys spending time with his wife and two children, and volunteering as a youth baseball and flag football coach.To read the original article, please click the following link:  http://bit.ly/1sehBDV