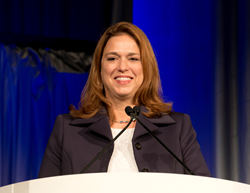 Each year Athletic Trainers from around the country and a variety of settings, gather for the National Athletic Trainers' Association Annual Clinical Symposium and Expo. New research is revealed, evidence based practice discussed, products displayed and case studies presented. It is also when Athletic Trainers are acknowledged by their peers with accolades and highly prestigious awards. This past June, in Houston Texas, several members of the Athletic Trainers' Society of New Jersey, Inc. and a committee were recognized for their efforts and dedication to the profession.
Tanya Dargusch, Washington Townships High School's Head Athletic Trainer, was presented with the most selective of the awards, being inducted into the NATA Hall of Fame. Quoted in 2015 after being awarded a Most Distinguished Athletic Trainer award, Tanya said, "Nationally, the only higher recognition would be the (NATA) Hall of Fame." (SNJ Today 2/11/15). According to the NATA website "The National Athletic Trainers' Association Hall of Fame exists to recognize the very best of our profession. Induction into the Hall of Fame honors athletic trainers who exemplify the mission of NATA through significant, lasting contributions that enhance the quality of health care provided by athletic trainers and advance the profession. To date, more than 250 athletic trainers have been inducted into the Hall of Fame. These men and women have shaped the profession through their noteworthy accomplishments and dedication to service, leadership and professionalism. Criteria for eligibility include:
    NATA member in good standing
    30 years BOC certification -or- Retired Certified with initial certification at least 30 years prior to award year
    30 years membership in NATA
    No other award, NATA or otherwise, is a prerequisite for eligibility for the Hall of Fame
Tanya is no stranger to awards and recognition. In 2015 she was awarded a Most Distinguished Athletic Trainer by the NATA, and is the winner of several awards, including: the Eastern Athletic Trainers Association Henry Schein Scholastic Trainer Award (2008); the National Athletic Trainers Association Athletic Trainer Service Award (2008); and the ATSNJ Victor D. Recine Distinguished Service Award (2007). In addition, she is a member of the Athletic Trainers Society of New Jersey Hall of Fame (2013), the New Jersey Scholastic Coaches Association Hall of Fame (2009) and the Rowan University Athletic Training Education Program Hall of Fame (2015). Quoted in an NJ.com article on 2/6/17, upon hearing of her selection, "It is with great pleasure that we have been informed of Mrs. Tanya Dargusch's selection to the National Athletic Trainer's Association's Hall of Fame," Washington Township Director of Athletics Kevin Murphy said. "Mrs. Dargusch has served thousands of Washington Township High School student athletes for the past three decades. Words cannot describe her value to our school community. She is a dedicated professional who has left a lasting impression on her students, as well as the colleagues she works with throughout South Jersey, New Jersey and the nation." Tanya has been a member of the ATSNJ since 1987 and has served on its executive council. The ATSNJ is proud to have her join such an esteemed group and congratulate her on this accomplishment.
The NATA Athletic Trainer Service Award is recognizes NATA members for their contributions to the Athletic Training profession as a volunteer at the local and state levels. ATSA recipients have been involved in professional associations, community organizations, grassroots public relations efforts and service as a volunteer athletic trainer. Criteria for eligibility include:
    NATA member in good standing
    20 years BOC certification
    20 years membership in NATA
This year the ATSNJ is proud to have two Athletic Trainers, Eileen Bowker and Casey Christy, recognized for their exemplary service to the profession of athletic training. The ATSNJ is grateful for their dedication and commitment to their ongoing work at the local, state and national levels.
| | |
| --- | --- |
| Eileen Bowker (Pemberton High School) | Casey Christie (Eastern High School) |

Eileen, Athletic Trainer at Pemberton High School, got her first glimpse of athletic training as a high school athlete at Steinert High School. "I got my ankles taped by Ron Sebastiani," Eileen said. She began her athletic training education at Castleton State College, under John Cattone, then continued at Western Michigan University. After passing her certification exam, Eileen began her professional career at Lyman High School in Florida. But after two years, decided to continue her career in her home state of New Jersey. She spent 18 years working for Northern Burlington County Regional School District, until she was approached with the job at Pemberton. During this time she, and a host of other athletic trainers formed the BCAT. It was this involvement and relations with ATs in the area (Mark Haines AT, Mark Cherwony AT, Dave Caplin AT, Deb Atmore AT, Audrey Tannebaum AT, Jeff Wood AT, Bill Von Leer and so on. This involvement and my friendship with Tanya Dargusch AT, Eric Nussbaum AT, Eric Schwartz AT, Lisa Camillone AT, Chuck Whedon AT) that got her to serve the ATSNJ. Eileen has worked closely with state, national and international wrestling. She has lectured around the country, educating wrestling coaches about nutrition and how to help their athletes eat properly for improved performance. Eileen currently sits on the wrestling rules committee for the NJSIAA and has recently been asked to chair the committee on Women's Wrestling in the State of New Jersey. Eileen is married to her husband Brian for 28 years and has 4 children, Kayle, Emily, Brian and Seon. "It was very humbling to receive this accolade. I have walked with giants, " said Eileen. "If you think my hands are full, you should see my heart."
Casey Christy, currently serves as the athletic trainer at Eastern High School, where he has held that position since 1994. He pursued his Athletic Training education at Glassboro State University, earning his BS in Health and physical Education, with a specialization in athletic training. He continued his educational pursuits, earning his Masters of Arts in Public Relations from Rowan University. Casey has served the ATSNJ and the profession of Athletic Training in may capacities. Casey has been active member of the Haddon Heights Youth Association Board and the Adam Taliaferro Foundation Board. Casey has served on the following ATSNJ committees: governmental relations committee (co-chairperson), the executive council (past president, president, president-elect, and southern region representative), and the public relations committee (instrumental in creating first newsletter and website). Casey served as the President of the Athletic Trainers' Society of New Jersey from 2005-2007. In 2008, Casey received the Athletic Trainers' Society of New Jersey Distinguished Service Award. He was inducted into the ATSNJ Hall of Fame in 2009, and the Rowan University Athletic Training Education Program Hall of Fame in 2014. Casey wrote, "I would like to thank my wife Shelley and our two kids Tyler and Myranda for supporting my professional activities, and for dealing with my unusual hours and the late dinners. I would also like to thank Chuck Whedon for inspiring me to become an athletic trainer, and for Larry Cooper for nominating me for this award. I deeply appreciate the Eastern High School administration and coaching staff, they have been tremendously supportive of me. I would like to also thank the athletes for inspiring me to be at my best and to keep learning."
Accepting the DeLoss Brubaker, EdD, ATC Student Writing Contest Award for "Best Case Study" was Janet Gonzalez from Montclair State University. Her case study "Circadian Rhythm Disorder Following a Cervical Spinal and Traumatic Brain Injury" was honored as she received her award at the Pinky Newell Scholarship Breakfast during the Convention.
This year, the ATSNJ Public Relations Committee received the "Best State Association Effort", Honorable Mention. This is the Committee's eighth major NATA award in nine years. The committee is comprised of a group of athletic trainers, from around the state and varying settings who work together to promote the profession of Athletic Training. And they continue to set the bar high. This year's major initiatives were centered around National Athletic Training Month in March. Several Athletic Trainers kicked off NATM representing the profession with signs and banners on NBC"s the Today Show. On ATSNJ.org daily "Tip of the Day" were posted to assist the public with common sports medicine questions and topics. Athletic Trainers from around the state were "spotlighted" on the website and social media was a focus as ATSNJ photo banners were used by members to promote #NATM2017. This award was accepted by ATSNJ PR Committee Chairman Allan Parsells.
The ATSNJ congratulates its award winners and gives thanks for their continued dedication, hard work and commitment to the athletic training profession. ATSNJ, Inc. consists of licensed athletic trainers, physicians and other allied healthcare professionals whose goal is to promote quality healthcare for athletes in any setting. For more information, please visit us on the web at http://www.atsnj.org or on Facebook (ATSNJ's New Jersey Sports Safety), Twitter (@NJSportSafety) and Instagram (atsnj).