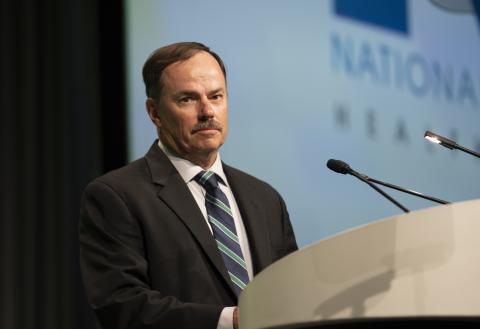 TRENTON, N.J.
Each June athletic trainers from all around the country gather for five days in a different city each year to further their education, learn about advancements in their field, and celebrate colleagues who go above and beyond to better the profession of athletic training. This year, during the National Athletic Trainers' Association (NATA) 69th Annual Clinical Symposia and AT Expo in New Orleans, Louisiana, New Jersey saw one of its own elected to the NATA Hall of Fame, three of its athletic trainers received the NATA Athletic Trainer Service Award and the ATSNJ Public Relations Committee continued its national dominance by being selected the winner of the NATA National Athletic Training Month "Greatest Impact" Award.
John Davis, Head Athletic Trainer at Montclair State University in Upper Montclair, New Jersey was welcomed into the National Athletic Trainers' Association Hall of Fame. This honor, bestowed upon few individuals each year, is the NATAs highest honor. Induction into the Hall of Fame honors athletic trainers who exemplify the mission of NATA through significant, lasting contributions that enhance the quality of health care provided by athletic trainers and advance the profession.
John Davis exemplifies these criteria. Davis graduated from Ursinus College with a Bachelor of Science degree in Health and Physical Education in 1979. From there he continued his education at East Stroudsburg University of Pennsylvania, graduating in 1983 with a Master of Science in Physical Education. After becoming a Certified Athletic Trainer in 1980, John worked as the Athletic Trainer at Royersford High School in Royersford, Pennsylvania and as an Assistant Athletic Trainer at Delaware Valley College in Doylestown, Pennsylvania and Amherst College in Amherst, Massachusetts before finding his home at Montclair State University in Upper Montclair, New Jersey where he has held the position of Head Athletic Trainer since 1984.
John Davis has held many leadership positions within the profession of athletic training at the State, District and National levels. John was President of the Athletic Trainers' Society of New Jersey and the Eastern Athletic Trainers' Association (EATA), which encompasses District 1 and District 2 of the NATA. Nationally, John had previously served as NATA District 2 Secretary. His impact on the profession of athletic training has been most profound that it branches out of New Jersey and covers the nation. 
When asked about the accomplishment, Davis remains his humble self saying "I have been lucky to have worked with a lot of great people and students in my career. They have all helped to make me into the athletic trainer I am today. Special thanks to Tim Sensor for nominating me and believing I belonged in the NATA Hall of Fame. I am inspired to work hard very day to live up to this honor."
The Athletic Trainer Service award recognizes NATA members for their contributions to the athletic training profession as a volunteer at the local and state levels. Athletic Trainer Service Award recipients have been involved in professional associations, community organizations, grassroots public relations efforts and service as a volunteer athletic trainer. This year, New Jersey boasts three athletic trainers to receive this award: Christina Emrich, Eric Schwartz and Eric Nussbaum.
Christina Emrich, the current ATSNJ President, has been the Head Athletic Trainer at Red Bank Regional High School (her alma mater) since September 1995 and in 2006 added Assistant Athletic Director to her title as well. Emrich earned a Bachelor of Science degree in Physical Education and Health K-12, and concentration in Athletic Training from Montclair State University in 1992. She continued her education by earning a Master of Science degree in Exercise Science from Kean University in 2007 and she also holds certification as an Emergency Medical Technician (EMT).
Christina has been involved with athletic training at so many levels and has been a staple in the secondary school setting. Outside of her responsibilities at Red Bank Regional High School, Emrich has been involved with numerous Shore Conference athletic events, Special Olympics New Jersey Summer Games, New Jersey State Cup Soccer Tournament and the NJSIAA District 22 wrestling tournament, along with being chosen as a Medical Manager for the 2014 USA Special Olympics hosted in New Jersey. No matter where she is working, Emrich can be found keeping the health and safety of her athletes as her main priority. More recently, Emrich has joined the New Jersey State Interscholastic Athletic Association Medical Advisory Committee to help pioneer health and safety of New Jersey athletes.
Eric Schwartz is a long time New Jersey athletic trainer and has served the ATSNJ in many different ways. He currently holds the role of Past President, having served as President from 2015-2017, President-Elect from 2013-2015 and Secretary from 2010-2013. In addition to these roles, Mr. Schwartz is also a member of the public relations, governmental relations and annual golf outing committees. Outside of the ATSNJ, Eric remains involved with the highest level of New Jersey high school athletics.
A graduate of East Stroudsburg University of Pennsylvania and The College of New Jersey, Eric has been employed as an athletic trainer with Washington Township High School in Washington, New Jersey since 2011. Prior to this role, Eric was the Head Athletic Trainer at Allentown High School from 2005 to 2011 and Notre Dame High School in Lawrenceville, NJ from 2000-2005.
In addition to his role at Washington Township High School, Eric is a New Jersey State Hydration and Weight Certification Master Assessor for NJSIAA Wrestling, has worked the New Jersey Summer Games of the Special Olympics and had been a NYC Marathon Athletic Trainer Volunteer for nineteen years. 
Eric Nussbaum, former President of the ATSNJ, is an athletic trainer with 30+ years of experience in all levels of athletics. He received a graduate degree in athletic training from the University of Virginia in Charlottesville, VA as well as an undergraduate degree from Millersville University of Pennsylvania in Millersville, PA. Eric is currently the Head Athletic Trainer at Colts Neck High School in Colts Neck, New Jersey and also works with University Orthopaedic Associates in their Somerset, New Jersey location.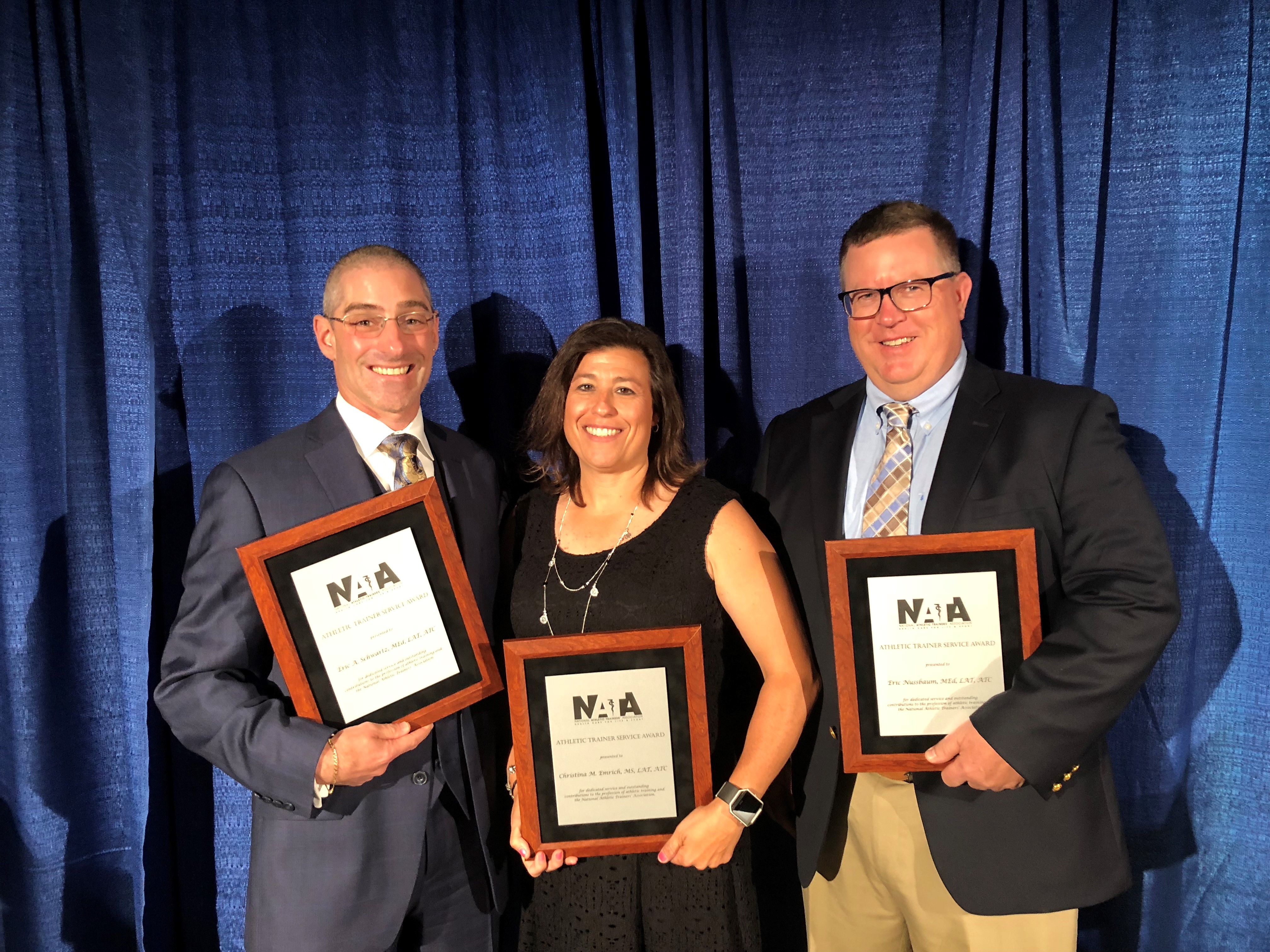 A longtime member of the ATSNJ, EATA and NATA, Nussbaum serves his profession as a Clinical Instructor in the Rutgers Robert Wood Johnson Medical School. He is a member of the NJSCA (NJ State Coaches Association) Hall of Fame, The ATSNJ Hall of Fame and a Founding Member of the College Athletic Trainers Society.
The ATSNJ Public Relations Committee is proud to receive the NATA National Athletic Training Month "Greatest Impact" Award for the third time in the five years Allan Parsells has been Chair of the Committee. This award is voted on by each NATA District Public Relations Chairman and is awarded to the program who has the greatest impact on athletic training public relations during National Athletic Training Month (March). This year, the ATSNJ Public Relations Committee had several initiatives that proved to be a winning formula. These initiatives included, but were not limited to a Facebook Profile Photo Overlay, Tip of the Day, ATSNJ Student Video Contest, Athletic Trainers at NBC's Today Show and ABC's Good Morning America, ATSNJ Student Committee T-shirt Sale, Public Service Announcements (PSAs) on a Local New Jersey Radio Station and ATSNJ Digital Billboard Advertisements. 
In effort to raise awareness about athletic trainers and the athletic training profession, the ATSNJ has purchased digital billboard advertising space throughout New Jersey that ran from March 5, 2018 through April 5, 2018. Billboard space was purchased in Northern, Central and Southern New Jersey to maximize exposure. Each individual piece of artwork was designed to promote this year's theme of "Compassionate Care for All". These ads focused on the fact that athletic trainers practice in all types of settings. Each add was run in 8 second clips. There was a maximum of 8 ads per billboard which resulted in 1,350 plays per day per billboard. Total plays for the month were approximately 376,650 for all locations.
"It is a distinct honor to receive this award from the NATA Public Relations Committee." said Parsells. "New Jersey is fortunate to have a passionate group of volunteers who do so much to promote athletic training within New Jersey and I am thankful to be able to lead them. It is truly a blessing to be able to support a profession and a Society that has given so much to me - it only feels right to be able to give back."
The ATSNJ would like to congratulate John Davis, Christina Emrich, Eric Schwartz, Eric Nussbaum and the Public Relations Committee on their most deserved awards. It is an honor to have these individuals and group of volunteers working so hard for athletic training in New Jersey.