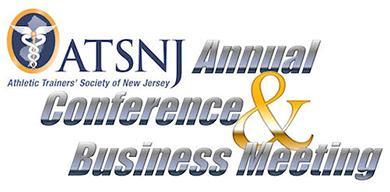 Celebrating the 33rd Anniversary of this society's Annual Conference & Business Meeting, the Athletic Trainers Society of New Jersey is once again proud to present an exciting educational program to the attendees.  The conference committee, in conjunction with the Rowan Athletic Training Education Program, is excited to bring you a state of the art conference located in central New Jersey at the DoubleTree by Hilton Somerset Hotel and Conference Center,  Held over two days, we are offering more continuing educational credits - 7.5 CEU total including 1.0 EBP credit - for the same price as a one day conference. 
This year we are honored to have Douglas Casa of the Korey Stringer Institute, as our Keynote Speaker.  
In addition to the regular conference, this will mark the tenth year hosting the ATSNJ Athletic Training Student Conference.  This year the program will coincide with the main conference, allowing an excellent opportunity for the interaction of current members with many of the future practitioners of athletic training.